Two of Australia's major zoos are evolving, with a new reptile centre at Taronga Zoo given the green light and a masterplan for Perth Zoo coming to life.
The approved Amphibian and Reptile Conservation Centre at Taronga in Sydney, designed by DWP (Design Worldwide Partnership) with landscape architecture by Context Landscape Architecture, will replace Reptile World, which will soon be demolished to make way for an on-site Wildlife Hospital.
Planning minister Anthony Roberts said the centre would be a drawcard for tourists and locals.
"This new centre will ensure the ongoing welfare of some special and uniquely Australian species, such as the critically endangered Bellinger River Snapping Turtle and iconic Corroboree Frog," he said.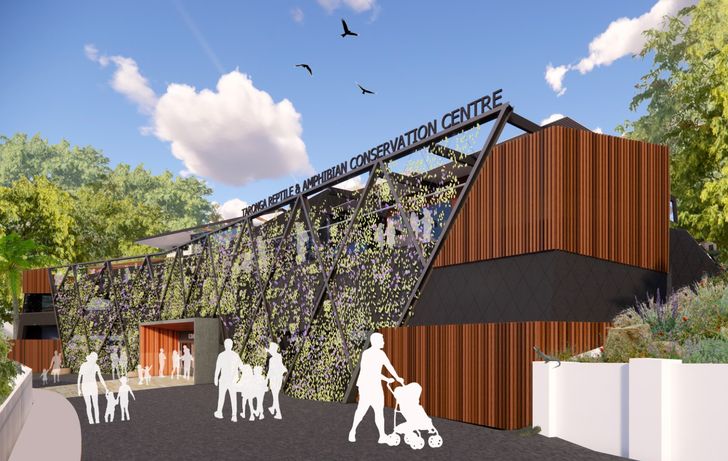 Construction is scheduled to begin mid-year.
Perth Zoo, meanwhile, has announced a key milestone in the development of its 20-year masterplan, by Hassell and Iredale Pedersen Hook, with tenders now open for the construction of a new cafe and function centre, both designed by Christou Design Group.
The new visitor cafe will be built in the heart of the zoo, while the function centre will be built on the western boundary, with its own entrance off Labouchere Road.
"It is so exciting to see the Perth Zoo Master Plan progressing," said environment minister Reece Whitby. "These two new facilities announced today will significantly improve how the people of Western Australia experience our state's zoo, and will open doors for more people to come to this inner-city oasis to connect with nature."
Correction (9 Feb): An earlier version of this article stated that the Perth Zoo cafe and function centre are designed by Hassell and Iredale Pedersen Hook. They are designed by Christou Design Group.