Chris Wilkinson, founding partner of Wilkinson Eyre, passed away in mid-December, 2021. A tall, elegant man with a significant presence, Wilkinson was both charming and self-assured. He was an architect and an artist who developed a lifelong passion for drawing and painting. This passion developed an ethos that architecture bridges art and science; as architecture critic Oliver Wainwright writes, his practice"most defined the technocratic optimism of the millennium projects era."
Born in Amersham, Buckinghamshire, Wilkinson attended St Albans School where he developed a love of drawing, leading him to do an art foundation course, which would prove formative in his architectural career. He studied architecture at the Central London Polytechnic, graduating in 1970. On holiday after graduating, he felt his calling: "I could see the future of modern architecture …. with people like Foster, Rogers and Grimshaw," he told me in December 2019, when I was fortunate enough to interview him on his life, career and buildings. "I discovered this when I was on a beach in Greece, and I raced home and applied to Rogers and Foster. I got a job at Foster's, which is very lucky because there were only 30 people there at that time … it was at an early stage of their development, and it was very interesting to be a part of it."
After five years with Foster Associates, he left to left in 1976 to join the newly formed practice of Michael Hopkins Associates, having worked closely with Hopkins during his time at Foster's. In 1981 he left Hopkins for a lead role on the Lloyds of London building with Richard Rogers Partnership. Two years later he told Rogers he was leaving to form his own practice: "Richard Rogers is a very generous person. He said, 'oh, that's fine, I quite understand, Chris.' And he actually passed the first projects on to me." Rogers also died in December of last year.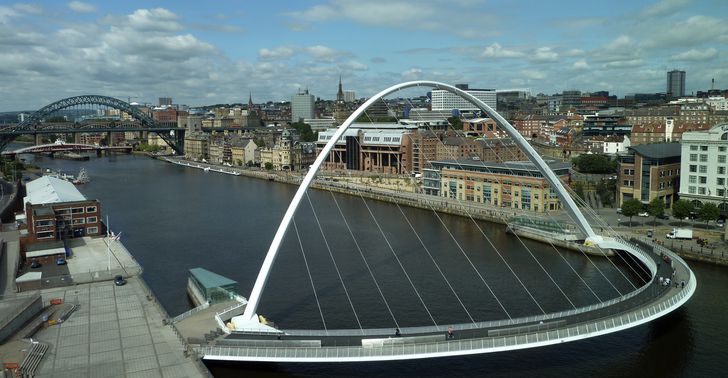 This formative experience with the preeminent practices of the British high-tech movement gave Wilkinson "an engineering mindset of assembly, efficiency and economy of means to deliver objects of beauty, according to Bates Smart managing directorSimon Swaney, who was co-director alongside Wilkinson on the Crown Barangaroo project.
Wilkinson founded his practice in 1983 and was joined soon after by Jim Eyre, with whom he had previously worked at Foster's on the Willis Faber and Dumas building; and in 1997 the firm became Wilkinson Eyre. Their first big break was the Stratford Depot, which lead to a series of infrastructure projects including the Gateshead Bridge, which was awarded the Stirling Prize in 2002. The practice fused the technological approach from his formative experience with an artistic sensibility: "I obviously didn't want to be like Foster or Rogers. It happened that my wife went to art school as a mature student, and I then became very interested in art. I started painting because she was so interested in what she was doing. I joined in really and became much more interested in actually drawing and painting. And that was the change for me, where I'd had this technological background, and then you bring in the art… so that was why the first book we produced was called Bridging Art and Science."
Wilkinson described his design process as often involving a narrative: "it's become very important to me, where you're not just designing a building to meet a function. You're giving it a whole raison d'être in the narrative, a storyline. And it's in that process that you can bring in some of these more unusual ideas on things, fine art for instance …. or technical innovation."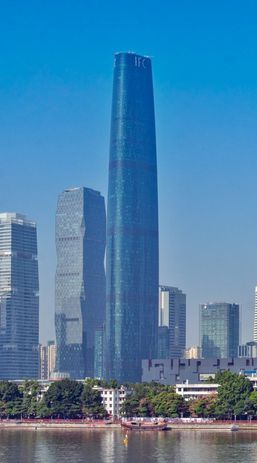 In the early 2000s the practice began entering competitions in China and, despite having never done a high-rise, won the commission for the Guangzhou International Finance Centre, which at 440-metres was the fourth tallest building in the world at that time. An elegant tapering soft triangle in plan with an expressed diagrid structure, this project led to further commissions throughout South-East Asia.
In 2013, the practice won an international competition for Crown Barangaroo in Sydney, a controversial project that has been mired in politics and allegations of corruption. Simon Swaney recalls: "On his desk he had an architectural model. It was a form but not a building. Chris explained how this form appealed to him and that it has been on his desk for over 20 years. He gave me the sense that this was a form he had always wanted to build – Crown Sydney presented that opportunity." The building's inspiration came from a sculpture competition Chris had conceived earlier for the border of Scotland and England; as Chris explained to me: "I did [that competition] with my wife and son, and it was about three petals that rise up and twist …The petals could join up to become a building …The narrative [at Crown Barangaroo] came from that first idea, and I guess it will always be seen as three petals that twist as they rise up. And I'm very happy with that. To some extent, it makes it more timeless because it's not related to something like a transistor radio, which goes out of date. It's about a kind of poetic or artistic concept."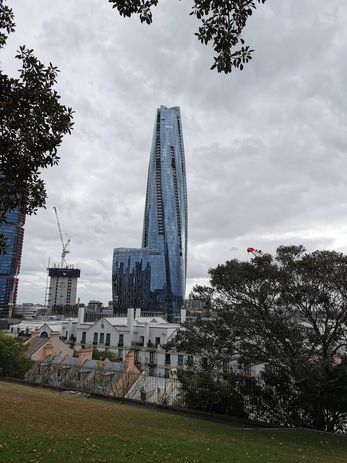 The legacy of One Barangaroo in Australia is of a highly sculptural work that is an exclamation mark on the Barangaroo headland. It is perhaps the clearest expression of his approach of integrating art into architecture; however sadly, as a result of the pandemic, Wilkinson never saw the project at completion.
Chris Wilkinson was awarded an OBE, elected to the Royal Academy of Arts in 2006, received an Honorary Fellowship to the American Institute of Architects, received Honorary Doctorates from Westminster University (formerly Central London Polytechnic) and Oxford Brookes, and was twice awarded the Stirling Prize, in consecutive years. Wilkinson Eyre established an office in Australia in 2019.
Philip Vivian is a director of Bates Smart. He has a Masters of Architecture and Urban Design from Columbia University, New York and has studied Global Cities at the London School of Economics.