The Western Parkland City Authority has lodged plans for the first building to be built in the new Western Sydney airport city of Bradfield.
Designed by Hassell, in collaboration with Daniele Hromek of Dijnjama, the Advanced Manufacturing Research Facility is being pitched as a "shared platform for collaboration and innovation."
It will be a place where government, research institutions and industry will lead research and product development in areas such as defence, space and aerospace, construction, energy and mining.
Hassell's design aims to reveal some of the advanced manufacturing processes taking place, allowing the public to engage with the facility while not compromising on functionality. A central spine will be open to the public at all times and will have the potential to hold large events.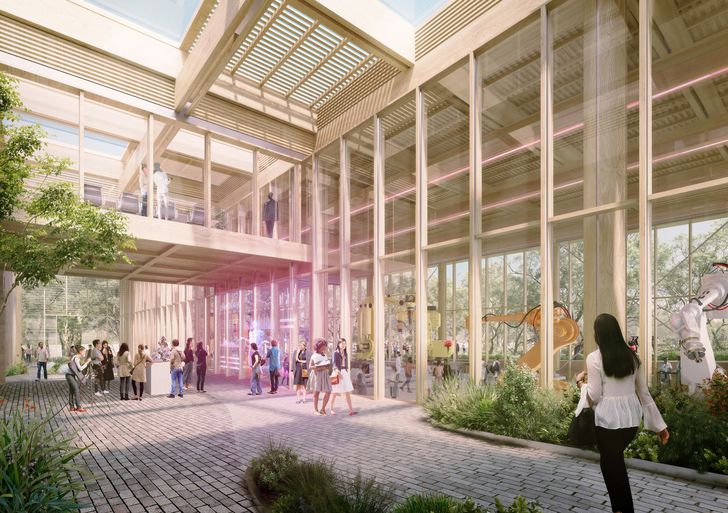 The building will be designed to be flexible and adaptable into the future, with the timber structure constructed using prefabricated modular components mechanically fixed together "like a kit of parts."
"…it has the ability to expand in the future, even 'self-replicating' using the advanced manufacturing hall to construct its own mechanical fixings used to bind the structure together," Hassell states in planning documents. "At the end of the buildings life it can easily disassembled, relocated to a new site."
The site is located on Dharug Country and the design aims to respond to Country and connect the building to the broader landscape, context and history.
"The collaboration with Daniele Hromek from Djinjama laid the foundations for a design response that listened to Country and in turn produced an architecture that is unique to this place," states Hassell.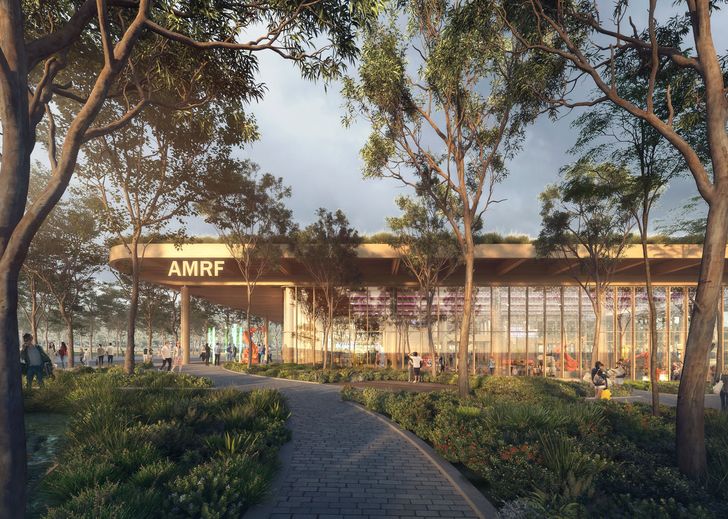 The building's columns will be articulated to reflect surrounding clusters of trees, for instance, while the "canopy" of the roof will catch water for a richly planted, landscape of local species and water features, celebrating "the meandering and ephemeral water of the Cumberland Plain."
"The architectural expression is soft with no sharp edges, responding to this being women's place and the ideas of water and fluidity," state the architects. The building will later be given a Dharug name.
NSW minister for Western Sydney Stuart Ayres said the building would represent an exciting first step for the airport city.
"The design shows what a high-tech, shared-use hub will look like," he said.
"The first building will house share-use advanced manufacturing equipment for research institutions and partners to translate ideas into products for manufacture in the Western Parkland City. Visitors will see that this is a place of advancement, collaboration and learning."
Construction on the nearby Western Sydney International Airport terminal, designed by Woods Bagot, started this week. The Advanced Manufacturing Research Facility is expected to be completed by the end of 2023.
The state-significant development application is on public exhibit until 12 December.