The community of Drysdale, east of Geelong on the Bellarine Peninsula, will soon have a new public library.
Designed by Melbourne firms Antarctica Architects and Architecture Associates, the two-storey library will be circular in form and will "stitch together" surrounding parkland and the town centre.
The design incorporates a planted roofscape and an amphitheatre and terrace at ground level, and a "circular masonry drum" elevated over the lower terrace giving the library civic presence.
"Drysdale town centre has a rich history of civic buildings with masonry construction, and in particular a number of fine examples made with local brick," said the architects. "We wanted to reinforce this heritage and at the same time provide a contemporary reinterpretation."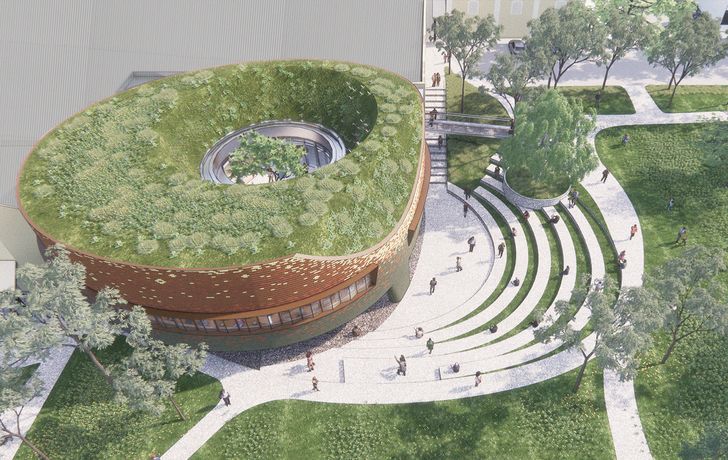 The open library and reading area will have panoramic views of the landscape and include meeting pods and study areas as well as a multipurpose community space and reading courtyard.
The rooftop garden will aim to contribute to the ecology of the peninsula. The large "natural habitat" will traverse the undulating roofscape, funnel into a central courtyard and drop down over the facade facing the public parkland.
"A library is a collection of books and objects, why not plants?" wrote the architects. "Our roof garden extends the concept of collecting to include Indigenous flora and fauna. The roof is not physically accessible, rather the environment is free to create its own microclimate – which we can watch, admire and learn from at a distance."
The new library will be located in the Drysdale town square near the existing library at Hancock Street and will serve the residents of Drysdale, Clifton Springs, Curlewis and northern Bellarine suburbs.
Related topics