Artist Eliza Gosse studied architecture at the University of Sydney before transferring to a degree in fine arts at the National Art School, where she is currently undertaking a master's degree. Her interest in architecture, particularly its contribution to Australia's suburban condition, underpins her work. Her thesis interrogates the impact of migration on Australian residential architecture and design and its contribution to an evolving cultural identity. Eliza attributes the architecture of the era to the cultural richness introduced through the postwar European immigration to Australia.
Considering the inspiration for her work, Eliza fondly recalls childhood visits to her grandparents' 1970s project home surrounded by native bush in Gosford, New South Wales. She identifies these visits as foundational to her paintings, which represent houses (of similar stock to her grandparents' house) from the postwar period International Style.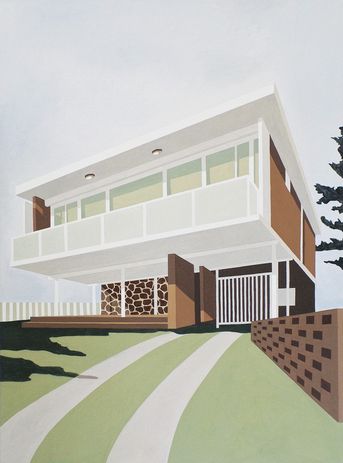 The title of the exhibition, Mission Brown, is entirely appropriate, embracing this line of enquiry. The colour harks back to the architectural era characterized by the emergence of project homes during the 50s, 60s and 70s across Australia and the US. Colour plays a significant role in Eliza's work, embedding a sense of nostalgia and conveying an intense familiarity through the intrinsically Australian palette she uses. In viewing the work, I was transported back to childhood memories of home and the generosity of space in the Australian suburbs, a shared vision many can relate to. Ever-present in her work are the Australian flora and fauna and the landscape that contributes to our unique sense of home. The green and silver tones of gums, the dusty orange of soil, the brilliant red of bottlebrushes, the vibrant yellows of wattle and the brilliant blue of the backyard pool are overlaid on her representations of home.
At a time when the Australian dream is being increasingly compromised through the subdivision of land and the construction of poor quality project homes, Eliza's work is refreshing in its optimism. Her paintings capture a rich architectural moment in Australia's recent past. The way we live contributes to our national identity and so it matters how we tell and retell our collective histories of home. Over time there is a risk that these stories will be lost. In this exhibition, the stories retold are important because they capture the wonder and romance of modernism.
Mission Brown was held at Saint Cloche 26 September – 7 October 2018.
Eliza Gosse's latest exhibition, You're Poolside and Everything is Perfect, is on at Edwina Corlette Gallery in New Farm, Queensland, until 17 April 2021.