It's been a pipe dream for more than 150 years, but a bridge linking Kangaroo Point and Brisbane CBD will finally be a reality.
Brisbane City Council has lodged a development application for the bridge, with Cox Architecture and Arup behind the design.
Expected to be completed as early as 2023, the single-mast cable-stay structure will run from the corner of Alice and Edward streets in the city to Scott Street at Kangaroo Point.
Measuring 470 metres long and 6.8 metres wide, the bridge will include dedicated cycle and pedestrian paths and "high-quality bridge landings, transitions and public realm." There will be shading across the full length of the bridge, along with nodes and viewing platforms to engage with the river and green spaces.
In planning documents, Cox Architecture states, "The bridge landings touch lightly on the river's edge and protect and integrate adjacent green spaces including the City Botanic Gardens as well as the rich history and heritage of the Gardens, Brisbane City Centre and Kangaroo Point.
"The bridge celebrates Brisbane's identity; its sub-tropical environment, and river city image."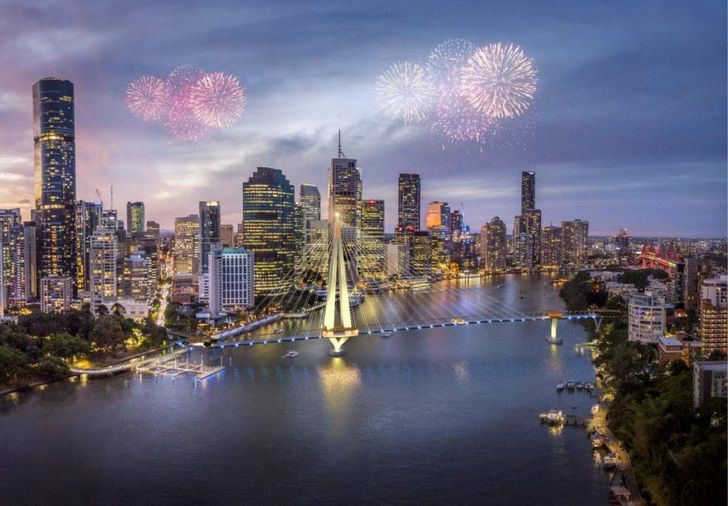 A bridge across this section of the Brisbane River was first proposed in the 1860s and a design was even developed by 1890. But economic recession and the devastation of the 1893 floods meant the idea stayed on the drawing board. Council announced it would progress with the project in March 2019 as part of its $550 million plan to build five new "green" bridges over 10 years.
A preliminary business case was released in September 2019 and a range of different structural forms and design options were developed for consideration before a draft reference design was put out for public consultation. The design was largely popular, with 71% of respondents registering their support.
Construction will begin on Kangaroo Point green bridge will begin this year, as will construction of a smaller green bridge at Breakfast Creek.
Community consultation will continue on the proposed bridges from West End to St Lucia and West End to Toowong. The council is looking for a new location for the fifth bridge after the initial plan to build it between Belbowrie and Wacol proved unpopular, according to the ABC.