Workplace strategist and interior designer at Peddlethorp, Sarah Bryant, joins our Interior Awards jury after being a finalist in last year's programme in the Workplace (up to 1000m2) as part of the UBS Auckland Office design team. Bryant has been practising design for almost two decades and has worked on some of Auckland's largest and most innovative workplaces. Get to know her inspirations, aspirations and what she's looking forward to during this year's Interior Awards.
What's your favourite interior space (one that's inspired you or your design thinking) from the past decade?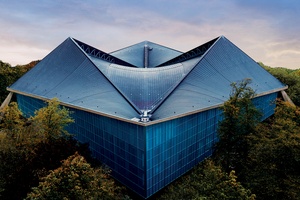 Sarah Brynt (SB): It's too hard for a designer to have just one favourite… One that was added to my list during a workplace tour of The Netherlands and UK was the London Design Museum. Formerly the Commonwealth Institute Building, it was carefully refurbished by OMA and John Pawson. The hero of the building is the hyperbolic paraboloid roof, which creates an amazing internal atrium and beautiful space to be in.
If you could design an interior project for anyone, who would it be and why?
SB: I design workplaces with the ambition to improve the places that people spend a great deal of their daily lives in. My ultimate workplace project would be to design with an organisation that wants to push the boundaries of improving employees' health and wellbeing through design of the places they work.
What will you be looking forward to while judging the Interior Awards 2021?
SB: I'm looking forward to seeing the variety and quality that the Interior Awards submissions bring, and what I'm sure will be fantastic discussion with my fellow jury members.
Enter the Interior Awards before 10 March and get 10 per cent off the entry fee with the code EARLYBIRD.