A modest townhouse with a celebrity address in Tribeca, New York, uses its facade as a strategy to disrupt heritage. The twisted and undulating wall of corbelled bricks structures the interior program and connects the residence to the street, while formally adding a layer to Tribeca West's urban story. Ironically named Unhistoric Townhouse, System Architects' recently completed project will no doubt make rather than distance itself from history.
Tribeca West is one of Lower Manhattan's most vibrant and popular historic neighbourhoods. Unhistoric Townhouse is a residential addition to and renovation of a building that has been transformed several times throughout its history. It began as a single-storey blacksmith's shop in the nineteenth century, which in the twentieth century became an auto repair shop, which was demolished in 1995 to make way for a prosaic office building.1 But only three of the five storeys of the office were built and when the owner found it was unprofitable, and the area was rezoned, it was converted, like much of Tribeca, into a private townhouse.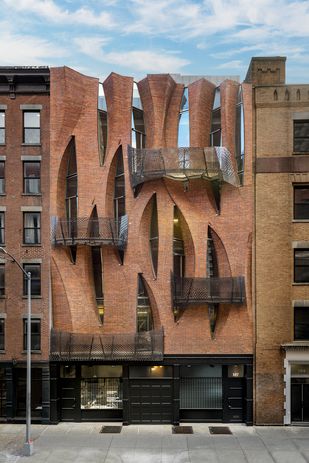 The project has already received plenty of media attention – first as an audacious architectural proposition and then for unanimously winning over the New York City Landmarks Preservation Commission. System Architects' parametric design for the building's facade, the only controversial aspect of the project, was likened by blog network Curbed to an Ed Hardy T-shirt. Concern about new architectural forms disrupting the urban character of historic districts is not new. But usually the claim is made against new designs that are out of scale or disrespect the integrity of heritage buildings by retaining only their facade. In Unhistoric Townhouse, System Architects puts forward a distinct form of facadism, one that makes a unique series of contributions at an urban, architectural and interior scale.
Tribeca (an acronym for "Triangle Below Canal Street" coined in the 1970s) is a hotspot of dining and shopping in one of the world's most dense cities. Tribeca was designated a historic district in 1991 for its cast-iron industrial architecture – mostly warehouses, stores and lofts – built during the mid-nineteenth century. Prior to 1960, this part of Manhattan was a prosperous wholesale food district due to its proximity to Washington Market and the Hudson River's shipping port. After the area went into decline, artists moved in for the cheap rent.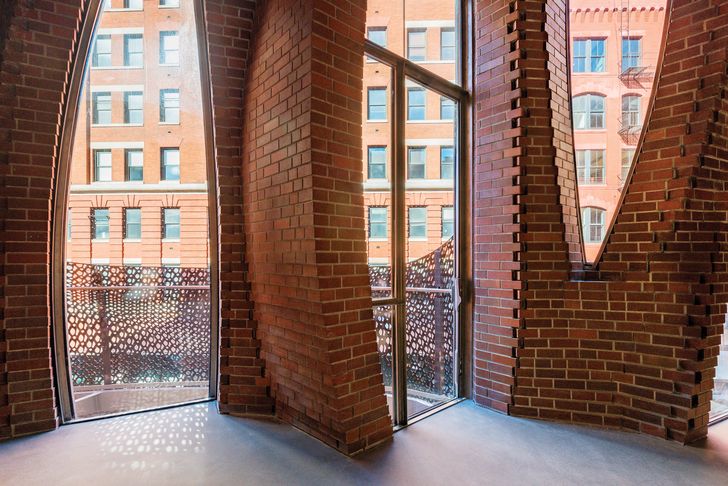 In her canonical book The Death and Life of Great American Cities, Jane Jacobs writes about the city's need for heritage, but also advises that "nothing but old age" can be equally problematic. "A successful city district becomes a kind of ever-normal granary so far as construction is concerned. Some of the old buildings, year by year, are replaced by new ones – or rehabilitated to a degree equivalent to replacement. Over the years there is, therefore, constantly a mixture of buildings of many ages and types. This is, of course, a dynamic process, with what was once new in the mixture eventually becoming what is old in the mixture."2
Unhistoric Townhouse takes account of the need for change. Rather than viewing historic buildings as static places to be preserved at all costs, it repositions heritage as a dynamic cultural process3 and design as a tool for a productive conversation with history.
Tribeca has a unified urban character with a consistent architectural scale and dominant masonry materiality. The facade of Unhistoric Townhouse speaks to this character by taking the brick as a modular element but giving it a new voice through a parametric dance. Edmiston states that the initial intention was to design a facade like "fabric that twists and flows in the wind, creating shelter, shafts of light, hidden crevices and perches, and odd-angled views."4 The new facade replaces the old orthogonal street frontage, offering material uniformity but challenging old forms. It turns facadism on its head by making it an additive process that offers this historic district a future built on the past.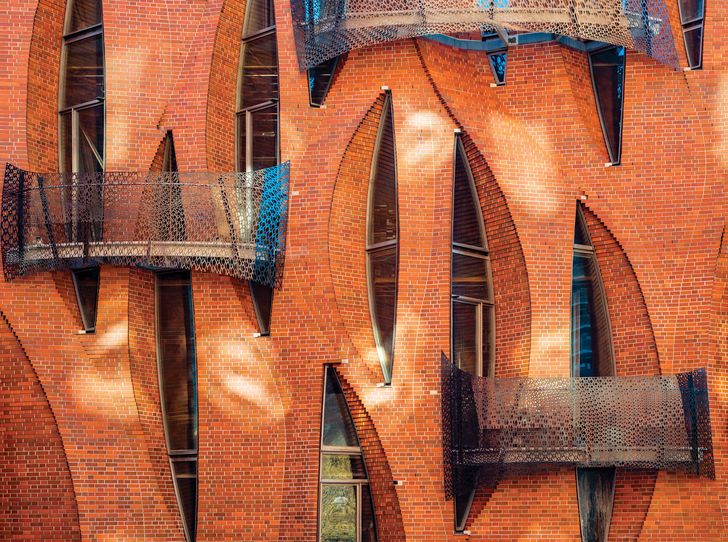 The bricks chosen for the facade of Unhistoric Townhouse also draw the past into the present. They were made by the Belden Brick Company in Plant No. 4, which has twenty beehive kilns, built in 1926 and located at Sugarcreek, Ohio.5 This kind of historic kiln draws out the colours of the clay in the firing process. The bricks used at Unhistoric Townhouse are a form of chromatic homage to one of Tribeca's finest Art Deco skyscrapers, the Western Union Building at 60 Hudson Street by revered American architect Ralph Thomas Walker. The bricks' smooth surface, sharp edges and structural strength help articulate a new architectural language while also embodying traditions from the past.
The facade also unites the building on an architectural scale. The site does not offer many options: it is wide and shallow with a street frontage of twelve metres and a site depth of only 7.5 metres. The facade is a continuous surface that floats above the street, hiding internal activities from the prying eyes of the popular Tribeca Film Center across the street through recessed, angled, elongated windows while simultaneously offering opportunities to experience street life through lace-covered balconies on each level.
Thick and fleshy, the facade makes its presence felt as much on the interior as on the exterior. Corbelled walls made from a double skin of bricks twist and turn to distribute the structural load, creating columns like branches of a tree. Initially, robotic bricklayers were tested as a way to build the facade, but in the end, the complex parametric geometry was hand-laid against a permanent foam template that insulates the building, improves waterproofing and reduces condensation. The internal character of the facade is that of a productive, organizing element, an interstitial gallery within the dwelling. In this space, marked out by a terrazzo strip, are places for sitting and reading by a window and for displaying sculpture. It also cleverly sidesteps the problems usually faced with irregular internal surfaces, where odd-shaped windows are difficult to furnish with blinds. Instead, an elegant dividing blind is the solution, aligned with the edge of the terrazzo, demarcating program from the undulating facade.
At the top of Unhistoric Townhouse, views of the surrounding district of Tribeca abound. The roof terrace accommodates an entertaining area edged by the facade's corbelled walls. These terminate to become a balustrade and inbuilt perches for taking in the summer sunshine and the historic landscape of New York, just around the corner from the World Trade Center. As Jane Jacobs said, "Old ideas can sometimes use new buildings. New ideas must use old buildings."6