The development application for Atlassian's headquarters, designed by Shop Architects and BVN, has been submitted, revealing details of how the world's tallest hybrid timber tower will be constructed.
Shop Architects and BVN won a design excellence competition for the project beating out John Wardle Aarchitects and So-il, 3XN and GXN and MVRDV and Cox Architecture, and Shigeru Ban, Toland and PTW.
"The Shop and BVN proposal delivered a well-proportioned, refined and elegant tower form with expressed diagrid structure," said the jury.
The 38-storey tower will have an exoskeleton of large steel rings and "mega floors" supporting eight four-storey section constructed from mass timber stacked on top of each other.
"The [exoskeleton] system was conceived to maximize both the architectural effect of the mass-timber habitats it carries, as well as the amount of lettable floor area within the building," the architects state in the development application.
The innovative system will allow for flexibility in both form and function with the interiors free from structural steel columns.
Each four-storey section, to be known as "habitats" will have a naturally ventilated area, like a garden, located on the north west side.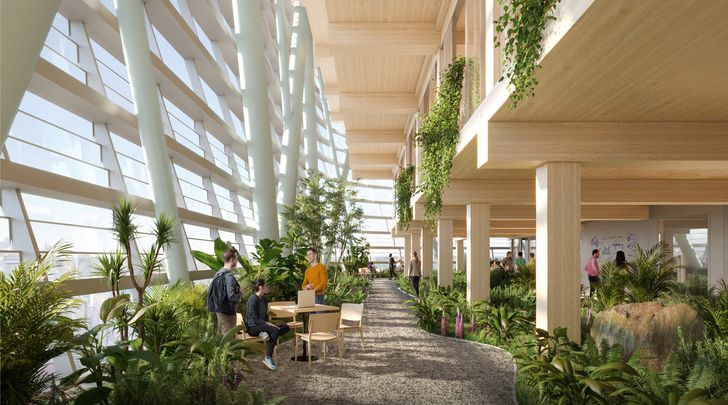 The building will be sheathed in a double layer façade, which will allow the building to "leverage Sydney's climate at all times of the year in a choreographed play of natural and artificial ventilation that results in tremendous savings on energy and a reduced carbon footprint while increasing the wellness and comfort of the building's occupants."
The jury considered the double skin a key design excellence element of the scheme. "The Jury were impressed by the approach that was taken which explored the performance and use of the building as a way to inform the aesthetic," said the jury. "There is a distinctive, playful and connected character between the interior functions of the building and the outside."
The top of the tower will accommodate offices lined with outdoor terraces. "At the highest levels of the tower provide a more extroverted expression of wood and plants framed by a crenelated exterior facade. Primarily devoted to gathering, the exuberant program of the tower crown is a fitting counterpart to its architectural expression."
The proposed tower directly adjoins the Central Station rail environment and will be the first development in a new technology precinct.
It is intended to be a demonstration project for the Australian software company, representing their commitment to environmental sustainability.
The development application is on public exhibition until 3 February.