For Melbourne architect Oliver du Puy, designing residential architecture is like "painting a portrait" of his clients. He laments that, with the rise of real estate speculation, "homogeneity is creeping into homes."
"I always try to design with personality," he explains, "wringing out all of the interesting ideas of the site and of the clients."
While studying architecture at university, Oliver was inspired by the work of Japanese designer Shiro Kuramata and architect Tadao Ando. "Kuramata said, 'Function of design should not just be whether it is practical or not. Enchantment should also be considered as function.' I think enchantment is so important in architecture," Oliver explains. "Without enchantment, it's just a building. I try to bring it to all my projects and spaces."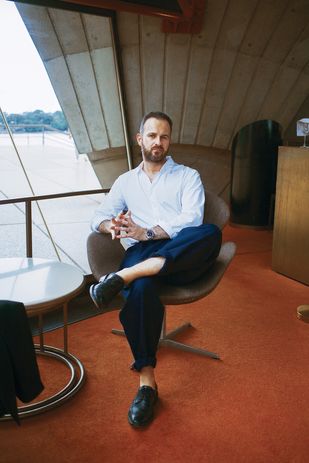 After studying at the University of Melbourne and the Architectural Association in London, Oliver worked in various high-profile and highly lauded practices, including Foster and Partners in London, Kengo Kuma and Associates, SANAA and Junya Ishigami and Associates in Japan, and Powell and Glenn in Melbourne. The prospect of designing his own projects lured him to start his practice in 2016.
Among his first completed projects in his hometown is a penthouse apartment designed for a client who considered "the art of living well" of particular importance. "The client's brief was as much for an art gallery as it was for a family home," Oliver says. "The space needed to be flexible to accommodate large-scale entertaining and viewings." The project is a renovation of an apartment in one of Melbourne's first warehouse conversions, designed by Graeme Gunn, Len Hayball, Andrew Reid and Ross Ramus in 1977. Over the years, the apartment had had a number of alterations. Oliver's approach was to create a unified backdrop to the almost 500-square-metre apartment. "The broader concept […] is one that advocates for pure abstraction and universality by reducing the essentials of form and colour so as not to detract from the ever-rotating art collection."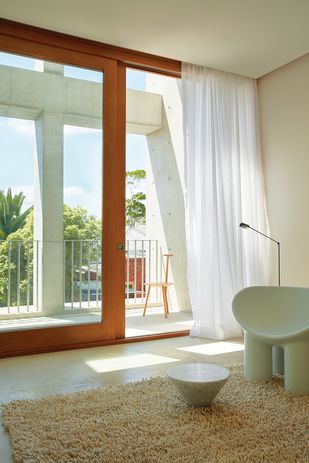 Another project, Skinny House, paints a portrait of a monastic and ritualistic sense of calm for a client who has a stressful job in high-frequency trading, travels a lot and works from home. The client desired separation between his working and private spaces. "That allowed a really beautiful exploration of ideas of mass, ritual and equilibrium in the space as well as in the materials, the structure and the vistas."
Built on a slender 4.2-metre-wide site – hence its name – the house is arranged vertically in an ascending gradient of privacy. The lower floor is more "public," the semi-private areas of kitchen, living and dining rooms are located on the middle floor and the private bedroom and bathroom are on the top floor.
Large "apertures" open out to vistas of a maple tree garden to the south at the rear and a green outlook to the north. "It's a very light and bright house considering there's no light to the east or west," Oliver says. "The design is a response to the direct environment of the house and its context. It's a result of functional problem solving: maximizing natural light, privacy and vistas to greenery, and controlling a series of atmospheres in each of those spaces that are quite independent of each other, because that's how the client strives to live. This house embodies ideas of health and wellbeing and encourages a monastic way of living, especially for the client in his minute-by-minute trading world. Anything that invites him to slow down and engage with his senses is a good thing."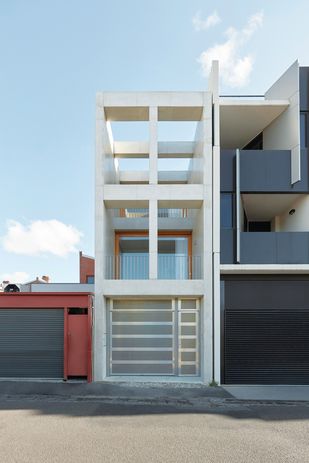 Oliver says that working with atmospheres is one of the most important aspects of his design approach. "Crafting an exploration [from the point of view of] an occupant, creating a sense of intrigue – it's a way of avoiding a strict aesthetic. I'm more about observing life and distilling why something feels good and convivial.
"An atmosphere can be as much about the warmth and delight of natural sunlight penetrating a space and washing against a beautiful rendered wall, or the material qualities, as it is about the music that's playing in the space or the people you're with. An atmosphere has lots of those different things. I like to explore projects that way."
Oliver is increasingly intrigued by the fantasy and escapism of the hotel experience and is becoming more interested in the temporary and the temporal – looking to other applied arts, such as fashion and cinema for inspiration. He is continuing to work on a number of private residential homes in Melbourne and Sydney, as well as boutique hotels and apartments, and says his dream project would be a monastery or a museum.