An underground herbarium and an "indoor pleasure garden" have been proposed for Royal Botanic Gardens Victoria in a 20-year masterplan for the Melbourne gardens.
The masterplan, launched in December 2020, create a series of new garden experiences and help "guide the post-COVID recovery of Melbourne" by providing opportunities for residents and visitors to engage with nature.
A key project, the new Sensory Garden by Central Lake designed by Andrew Laidlaw has been completed and was opened to coincide with the launch of the masterplan.
The sensory garden features a series of immersive plant experiences designed to simulate the senses through views, colour, sound, scent, textures and forms of plants.
The premier project outlined in the masterplan is the Nature and Science Precinct, which, along with the Arts and Culture and Sports and Entertainment precincts, is intended to be one of Melbourne's three major destination by the Birrarung (Yarra river). The precinct will be located at the site of the existing herbarium.
John Wardle Architects along with Laidlaw and Laidlaw Design Landscape Architects were appointed to design the new precinct in May 2019. The masterplan provides details of the design, including the underground herbarium and vault, which will house the 1.5 million plant species in the State Botanical Collection.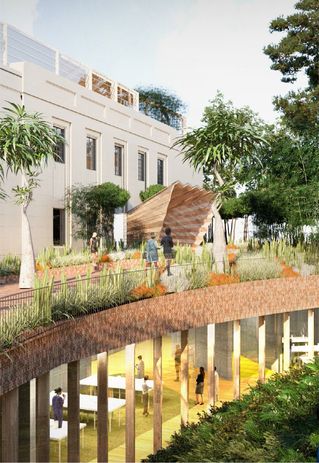 The 1988 extension to the herbarium will be demolished and the original 1934 herbarium building will be refurbished. The precinct will also include a new welcoming public space on Dallas Brooks Drive, which will become the destination meeting point, and connections to Ian Potter Children's garden.
Other projects include a new entry gate by the Birrarung, between the existing A and H gates. The new gate will become a new major entrance to the gardens and will celebrate Indigenous landscapes, plants, animals, landforms and people.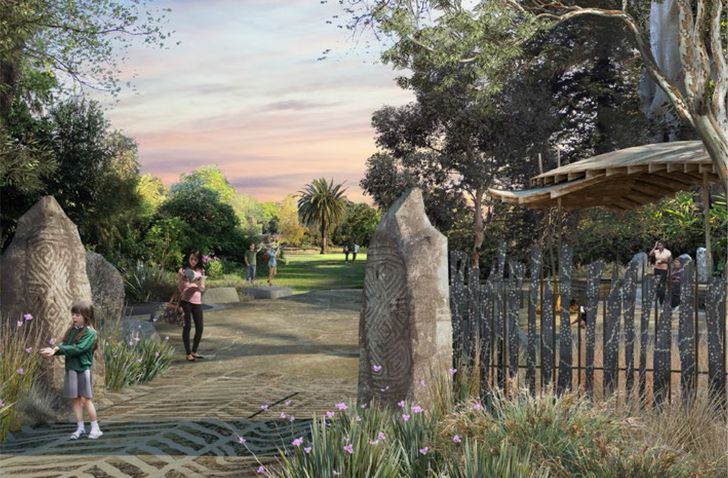 At the corner of Alexandra Avenue and Anderson Street, the A Gate will be redeveloped into a terraced garden with a focus on health and wellbeing.
Huntingfield Lawn, an under-used piece of land between the northern border of Government House and Alexandra Avenue will to be recontoured to create new amphitheatre venue for small theatrical performances.
Hopetoun Lawn will be redeveloped into Wild Wood, a natural bush children's area and unstructured play space.
The masterplan will be delivered in stages, culminating in the construction of the New Lakeside Conservatory on the existing site of the Terrace Tea Rooms. The masterplan describes the proposed conservatory as an "indoor pleasure garden."
"Sitting sensitively in the landscape as a grand folly, this structure would become a major new landmark and destination in Melbourne," the masterplan reads.