"A facade, of course, differs from an elevation in being a vertical surface endowed with a metaphorical or allegorical presence."1
Colin Rowe's critical observation is one that also distinguishes Central Park, in the inner Sydney suburb of Chippendale, from its surrounding urban setting. Phoenix is located on a modest side street bordering the precinct's farrago of glass and aluminium elevations. Its facade is initially jolting, as it conceals more than it reveals. You can examine the contents of its extroverted neighbours from hundreds of metres away but, even in close proximity, this cryptic urban wall shields its secrets.
But it is certainly not silent. Phoenix is acutely responsive to surrounding urban cues. The junction with Smart Design Studio's Indigo Slam is clearly marked by the moment that concrete yields to brick, yet its tonality is seamlessly translated in a wash of creamy-grey clay. Indigo Slam's dynamism reverberates through Phoenix's brickwork, curling the junction where the buildings meet and softly pleating its eastern parapet. The gyrations of Turpin Crawford Studio's nearby public artwork, Halo , seem almost to have pressed into Phoenix's facade, forming a subtle brick "dimple" that allows its large, circular windows to push forward and command the focus of the perpendicularly aligned Central Park Avenue.
I move along the facade looking for clues, as I know that John Wardle Architects (JWA) and Durbach Block Jaggers Architects (DBJ) are in there somewhere. A triangularly inflected window reveal in sharply stepped brick – is that JWA? A blush of colour in an upper window and an unexpected mirrored face – surely that's DBJ? Have they left a Corbusian motif for me to find?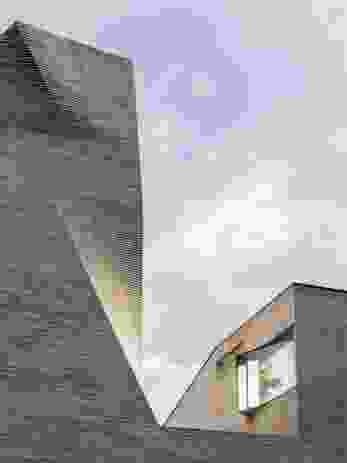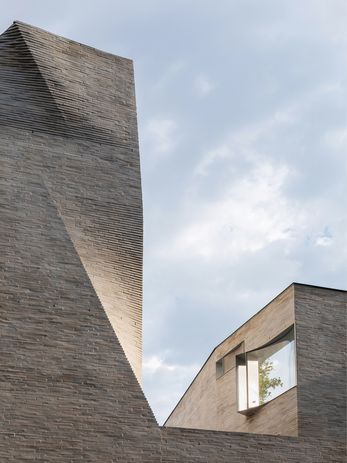 They have, but it is hidden in plain sight. Phoenix is a Corbusian boîte à miracles – a miracle box – an architectural vessel capable of holding everything you could desire.2 The facade's restraint is a foil to the miscellany within – a gallery designed by JWA and a performance space designed by DBJ. Breaching the facade is like slipping through the looking glass. I arrive in an outdoor courtyard, a sculpted brick cleft. I have the plans of this building, I can see how things are arranged, but where should I begin?
Eventually, this journey will be scripted, and rescripted, by the building's impresario, Judith Neilson. But it is not yet in performance mode, so I make my way to the top of JWA's gallery in a glass lift that rises up between suspended works of sculpture. The upper gallery is emphatically horizontal – a white datum for the display of paintings, capped with steel diamonds set against the sky. These deep vaults filter out direct northern and western sun, bathing the space in soft, mutable light. It is this triangulated grid that pulls the parapet into its external rampart form.
This was an extraordinarily open brief. It appears that Neilson challenged as much as briefed her architects, advising JWA that she had not determined the types of art that she was going to exhibit in the gallery. JWA did, of course, revisit the great architectural exemplar of the collector's reliquary, the Sir John Soane's Museum in London – and there are some resonances, particularly in the considered use of natural light. Yet, there are many more differences. The Phoenix Gallery is equally labyrinthine, but it is spatially interconnected and porous.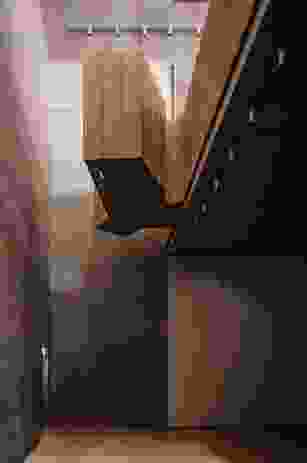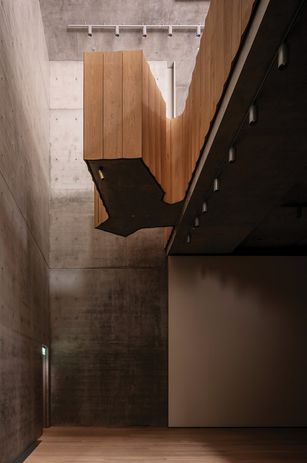 While moving through the galleries, you are repeatedly invited to step onto sculpted timber rostra that push out into voids. The tops of the plinths are dimensioned to accommodate the exact dimension of wrist to elbow. These are moments of intimate material contact and are unexpected in a gallery setting, where we have been ruthlessly conditioned to resist the impulse to "touch." These platforms temporarily draw you away from the work at hand and tempt you to peer into galleries beside, below and above you – piquing curiosity and building anticipation of the path ahead.
Despite this spatial continuity, each gallery cultivates a highly specific atmosphere and proportional arrangement for engaging with artistic works of different scales and media. From the gauzy horizontality of the upper gallery, I trickle down through the building, constantly reappraising my route. Shall I take the folded timber stair or the concealed linear one? I circle back, for fear of having missed something, to find works reframed anew and to discover miniature galleries for single works carved into wall thicknesses. The vertical double-height gallery on this level, with its paired oculi, presents the city as captured tableau and has a floor so flawlessly white that I actually tiptoe across it. The camber of the facade presses into the room, gently pushing me towards a decoupled black studio that harbours small works lit for intimate scrutiny.
The presence of clay beneath my feet is an acoustic and textural hint of a metaphorical return to earth – to the two lowest gallery levels. The lower galleries are expansive, and each offers alternating planes of plaster and off-form concrete for the installation of larger-scale works. A final gem is secreted beneath the entry court – an elliptical room with a circular skylight and burnished black floor, where sculpture and concrete dance with the sun. The equivocality of the brief has been translated into a wild abundance of spatial and material permutations for framing encounters with variable artistic elements.
JWA's spatial porosity is a counterpoint to DBJ's spatial succinctness. I enter into the "back of house" of the performance space – a taut suite of service rooms. Light is no longer diffuse, it is categoric. Bespoke fittings throw scalloped pools of light along the corridors, reminiscent of stage spotlights. The sense of compression in the planning is heightened by the decision to stage the bathrooms as a veritable house of mirrors, throwing light and reflection against a palette of polished grey plaster and charcoal steel trims.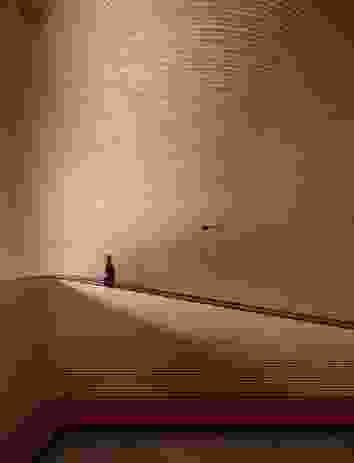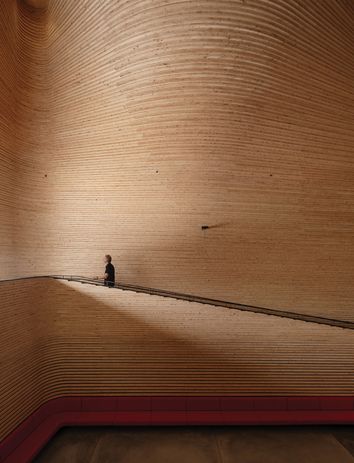 Saturated colour explodes against this backdrop in tightly scripted bursts – in the green room, naturally, but also in bounded moments of vertical circulation. The lift car, and a pair of stairs that lead to the auditorium, are suffused in a red so vibrant it makes my pulse quicken.
This is the performer's path, rising up towards the acoustic volume. The audience enters from above, curling around the room's edge along oversized steps that meter human pace into a slow, expectant rhythm. The relationship of player to audience is intentionally equivocal, too. There is no fixed arrangement for their meeting, only the elements that will orchestrate it: floor, banquette, balcony, steps. The room is resolutely non-directional. Players must arrange both score and spectators.
The plan and section of the Phoenix performance space are radically atypical. The ratio of room to poché is almost equal, yielding an exploration of spatial plasticity that is liberated from any obligation to exterior form. Layered up from individual strands of cross-laminated timber, the space is pinched, pulled and twisted vertically, translating square to cruciform. The timber striations belly and drape into convex curves that propagate sound.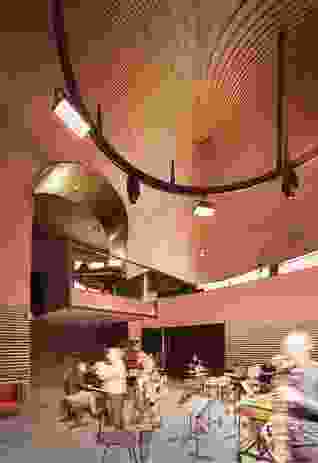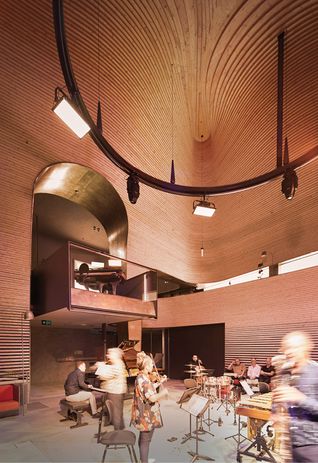 Given the thickness of the architectural mass in which the acoustic volume is enveloped, moments of connection to the exterior of the building acquire particular significance. There are three windows to the street. Two are fritted in optical patterns that distort their apparent directionality, while a third operates like a horizontal periscope. A single pinpoint skylight pierces the top of the volume. All are contrived to abstract and accentuate the distance between this vessel for spectacle and daily life.
On the top floor is the third and final programmatic element – a place for meetings, planning and discussion. I land in a space that is white, tranquil and silent. Half room, half walled garden, it is mediated by a glazed "wall" that is aching to dissolve entirely. The Central Park monoliths come back into view, arranged behind a whimsical foreground garden of cacti and succulents; fleetingly, they seem to fit. The city is held at bay by the enclosing brick walls of the street facade and courtyard, their independence reasserted by the exposure of their rear faces towards the garden.
These walls are vital to the cohesion of this lyrical assemblage. There are opportunities to move between the distinct parts of the building on most levels, but they are specific and tightly controlled. It is the facade that unites the distinctive architectural voices, while the courtyard holds them in an energized proximity. The courtyard is charged by the resulting tension, forming something akin to an architectural synapse. The individual architectural qualities of each part are intensified by both their separation and their adjacency.
The freedom that Neilson extended to JWA and DBJ in the evolution of this project is remarkable, and rare. It was balanced only by the intensity of her demands for excellence. Set against the failure of the public sector to support the arts in these currently fraught and unpredictable times, Neilson's investment and commitment to culture, as physically manifest in this most extraordinary work of architecture, could not be more profound.